Management Overview
This overview describes the basic operation of our system.
The email system is split into three main tiers.
A Visp (Virtual ISP) contains accounts
An Account (Customer) contains mailboxes
A mailbox can manage a subset of its own settings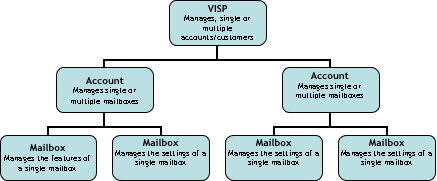 In a typical wholesale enviroment we would create a visp for your organisation with a visp Login. This login would be able to create accounts and mailboxes within those accounts.
You can then allow your customers to login to a branded copy of our interface and manage their own mailboxes. Each mailbox user can also login and adjust their spam, virus and spam folder settings. This is useful for ISPs who might have customers who are reselling their service.
By setting the 'maxusers' value in the control panel. The Visp admin can control how many mailboxes each customer may add or use. Billing for the service is based on capability via the maxusers setting.
Attributes List
Account
Maxusers - number of mailboxes allowed
Default Spam Level
Default AntiVirus setting
Quota - disk space allowance
Mailbox
Spam level - Low Medium High Extreme
Anti Virus switch - enables virus scanning on inbound and outbound mail
Maxage - delete mail in a pop3 mailbox after n days
SpamAge - delete mail in the spam folder after n days
AutoReply Enable/Disable
FetchMail - Fetches mail from external POP3 mailboxes
Password Change
For a complete list of the service features view the email features page.